Icons for GRASS
Assumptions
vector -> raster
24x24px - as basic size
gif and/or png
minimalistic design
flat view with very light 3D
unsaturated, custom palette

[2008.03.13]
First set of 9 icons, just to see them in toolbar. Without 3D, shadows, raster workout, etc. - just draft from vector.

[2008.03.20]
Layer primitives based on GRASS logo.
Depending on layer type will be filled with different elements.


or

- one layer


- several layers
Objects and actions
Probably most of action signs should be 20-30% bigger.
object/action
add
delete
edit
new/create
redraw / display(?)
open
save
more options
previous
next
import
export
duplicate
layer
+
+
+
+
workspace
+
+
+
+
zoom
+
+
display monitor
+
+
map
[2008.03.25]
Basic GIS objects

Basic GIS actions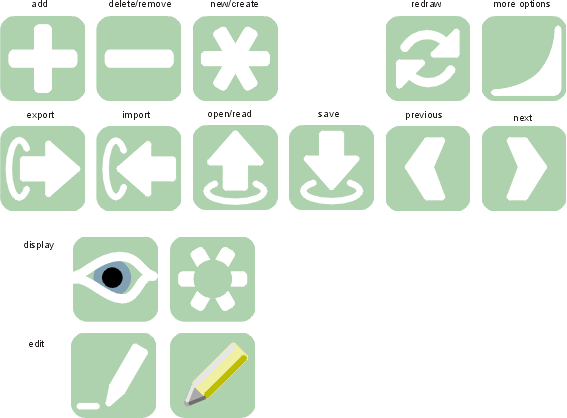 Map display window toolbar (new NVIZ icons ...)

[2008.08.12]
After longer break I made comparison with standard GRASS and silk icons for wxGUI. Just to have better overwiev.
[2008 late summer :) ]
More ideas in one place prepared for Geoinformatics FCE CTU 2008 Workshop in Prague. Full paper on Toolbar icons for GIS applications.
Many thanks Martin ...
[2008.11.13]
As first version of GIS icons is every day closer, I have to decide (with your help) on few issues. At this stage Tango color palette was used.
Latest (preview) versions of icons for QGIS.

Vote in survey based on QGIS interface
[11.01.2009]
Version 0.1 of GIS icon sets for GRASS and QGIS is ready. Work will follow at http://robert.szczepanek.pl/icons.php
---
Comments are welcome on GRASS and Quantum GIS mailing lists.